Packaging with a fixation system for headlamps with the prescribed size of the outer packaging due to palletisation.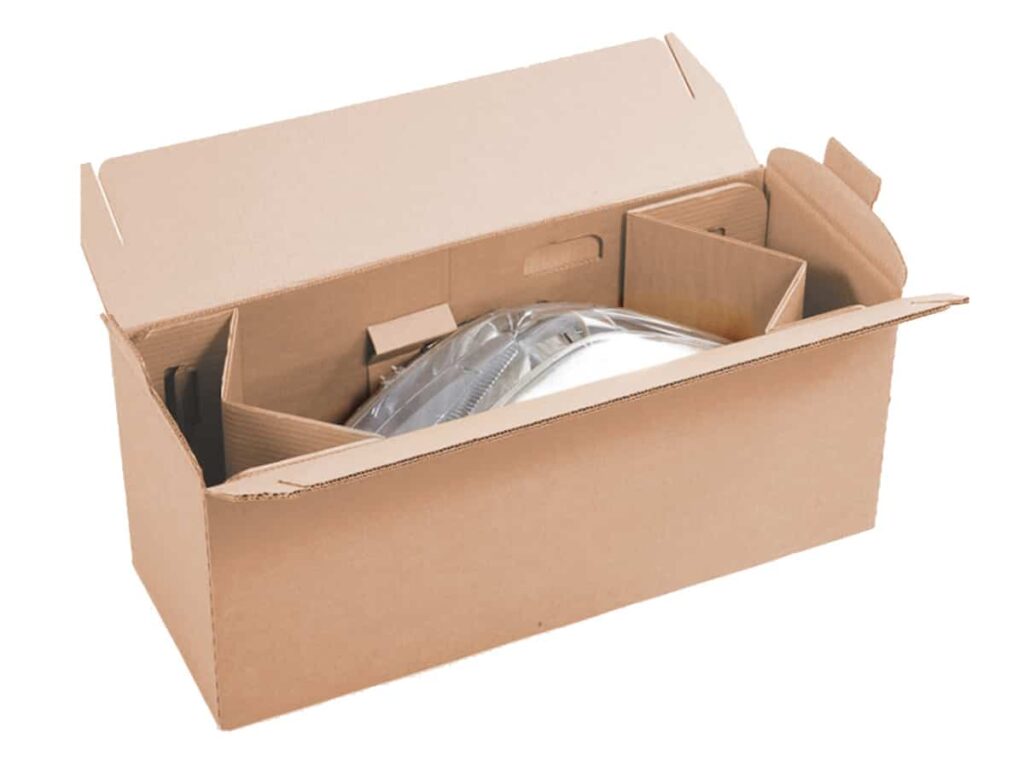 One of our customers placed an order for a reliable packaging solution for shipping headlamps with precise dimensions provided for the outer packaging layer. In practice, therefore, it was all about designing fixation that protects the headlamp lens using a minimum amount of material.
Reliable packaging of both left and right versions of two different headlamps.

Servisbal came up with an original solution allowing for the left and right headlamps to be inserted into a single package with the fixation being designed in such a way that there was only one correct way to insert the headlamp. This seemingly minor feature prevents packaging mistakes caused by human factors.
The whole fixation consists of one piece of material, thus resulting in significant savings in the overall packaging cost and environmental impact of the packaging. By meeting the dimensional conditions, the packaging can be easily palletised on both US and EUR pallets. The solution is patented. 
1. One fixation insertion for left and right headlamp
2. Avoidance of operator errors
3. Easy handling – assembled with one move
5. Single-type packaging – easy recycling
1. Save time during packing process – avoid operator errors
3. Affordable price for packaging – minimum material without the need for gluing or sewing

Industry: Automobile industry
"Thanks to a great design idea, packaging errors have been reduced. The headlamp may not be placed in the package other than in the correct position."