We fixate and protect the products being packaged
The box itself is a given, what's important is the protection of goods.
A fixation system stabilises the products inside the packaging and prevents them from becoming damaged. We have been specialising in the creation of reliable packaging fixation systems for more than 27 years. For the packaging of individual products, we most often use a fixation system consisting of a shaped cut-out or loose fixation materials.

For group packaging, stabilisation grids and/or separators are best so that the products can be easily inserted into their pre-defined positions, thereby preventing any damage.
Need advice on custom-made packaging?
For packing more than one product in a single package, it's worth using fixation grids. These grids will ensure that your products stay separated, preventing any damage. The grids also strengthen the entire packaging solution, and if necessary, can absorb shock or pressure applied to the packaging. Our company specialises in the production of fixation grids without the use of a cutting tool. Deliveries can be provided in a JUST-IN-TIME mode, meaning exactly according to the needs of the customers' production lines.
We supply grids that are already machine-assembled. This means customers will save a whole lot of time and energy needed for their assembly. The grids do not fall apart when being handled and can be immediately inserted into the packaging.
Interlayers are simple cardboard parts (blanks) that are inserted into the packaging and protect and separate products from each other. Large interlayers – the interlayers are inserted in between packages on the pallet and the entire pallet unit is reinforced with its load capacity increased.

These interlayers can be bent, thus creating a cheap and complete fixation solution that works well even for fragile products. There are a large number of methods of application, from edge protection and the creation of additional deformation zones to more complex shape fixation solutions for products inside the package.
Fixation interlayers and grids can be produced without the use of a cutting tool, so there are no additional costs for the first order.
These are interlayers with holes that copy the shape of the packaged products exactly. This makes their handling very simple and fast. A separator can be made of various materials, the most common being corrugated cardboard. If the solution calls for returnable packaging, cardboard plastic is often used. The separator represents a reliable and cheap solution for group packaging across all industries.
The precisely defined and fixed position of the products in the separator enables easy robotic manipulation of the products.
Packaging with a fixation made of PE foam polyethylene is excellent for packing very fragile products, such as electronics, automotive parts, painted surfaces and more. We have a technology that allows us to produce shape-accurate spatial fixations from larger pieces of PE foam.

We offer classic, large-scale production but also small-batch production from 1 piece. 3D fixings can be produced in a shape that matches the packaged products exactly so that the products are firmly stabilised inside the shipping container. They may also take the form of grids or strips that are inserted into the packaging to improve the properties of the shipping container.
PE foam is a very economical material that does not scratch packaged products even with vibrations and shocks during transport.
Simple machines that produce box fillings directly at the packaging workplace, or in other words, directly in the warehouse or on the packing table. The consumable material is either paper, from which FillPak and PadPak paper fixation is made, or a special foil used for the production of air cushions.

Filling materials are inserted into the free space of the packaging and thus protect the packaged products. The presented systems have a number of advantages over classic loose materials. These primarily include lower storage requirements, more efficient and faster packaging, a lower overall price for packaging, a professional appearance of the packaging, and more.
FillPad, PadPak or Minipakr fixation machines can be easily integrated into your existing packaging line. With their help, packaging will become noticeably more efficient and less strenuous for shipping workers.
Fixation and stretch foils
A fixation solution with foil attached to the interlayer is the most reliable solution for sensitive electronics and other similar products. By folding the flaps, the foil is stretched down during the packing process, which results in the packaged product being perfectly fastened and prevents it from touching the walls of the outer packaging layer. It is a perfectly dust-free and anti-static solution. The whole package looks professional. The foil packaging can be reused several times in a row.
The ideal packaging solution for flat electronics such as mobile phones or laptops. It is often used for sending electronics to and from a repair service.
Using shape-cutting technology, we often produce shape-accurate fixations that perfectly stabilised the packaged products. The use of shaped blanks stabilises products that are packaged and shipped in the desired, predefined position. This fixation solution also provides them with the necessary protection against shock and falls during transport. We create designs in a structural fashion so that handling is as simple as possible and the overall packaging process is as efficient as possible.
We design shaped cut-outs using the optimal amount of material. The packaging is then more environmentally friendly and more cost-effective.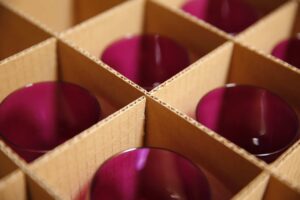 Packaging for fast and safe handling during production with several dozen types of drinking glasses. The traditional Czech manufacturer Crystalex CZ needs a simple solution for moving drinking glasses during various stages of production and shipping. Temporary group packaging must be easy to fill and at the same time prevent damage during transport between production lines, the warehouse and the packaging workplace.
Entire case study ->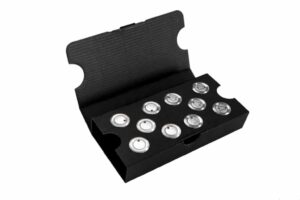 The separator and outer packaging made of anti-static corrugated cardboard protect sensitive device buttons from electric shock and mechanical damage.
Entire case study ->
We have helped many customers during our years in business.