We supply the packaging machines and work space
By partially or fully automating the packaging process, you can achieve significant savings on shipments. The entire packaging process can be significantly sped up while saving time and cutting personnel costs. We focus on creating complete packaging workplaces and assembly lines.

We supply simple packaging machines that facilitate or completely replace human labour. We integrate gluing machines, box folding machines, wrapping machines, and simple technology for the production of filling material in your packing work spaces. We provide the supplies for suitable packing using this technology, and their fast and high-quality service by our own service technicians is guaranteed.
Interested in packaging machines?
These are simple machines that seal box flaps. This technology can only seal one or both (top and bottom) flaps.

For simpler machine options, resetting for different box sizes is done manually while more advanced ones do this automatically. The highest row of gluers then works completely independently without operator interference, and the boxes can be removed automatically from the container. Choose gluing machines based on the size of your shipments and on whether you pack large series into one box or goods of different sizes in differently sized packages.
A large number of gluing machine types provide solutions for small packaging workplaces as well as large automatic lines.
Folding (formatting) machines
These machines assemble flat boxes into full 3D so that they are ready for goods to be inserted directly into them. They often also contain an adhesive head, which can seal boxes from below and above. Adjustment for different sized packaging can be done automatically or manually, and even in the latter case it is very easy, taking just a few seconds.

Formatting machines are easily integrated into the packaging line, often in combination with gluing machines. A more advanced option would be to use the formatting machines with fully automated operation, which remove the boxes automatically from the feeder.
Very easy integration into packaging lines. Save time and energy for your packaging workers.
These are standard or mobile machines used for wrapping packaging on pallets and other goods with foils. Typical stationary machines use a turntable for this. In the case of the mobile version, it is a smaller self-moving machine.

The wrappers we supply are characterised by high quality and great packing speed with the option of packing pallet units up to a height of 2.1 m and a weight of 2,400 kg. The machines are easily programmable, and wrapping cycles can be set to suit your operation.
We offer a large selection of accessories for wrappers, such as various types of brakes and prestressing.
Packing tables make work much easier and speed up the time needed to pack a single shipment. We not only sell them but can also adapt them to your needs and integrate them into other technological systems. Packing tables allow you to have everything you need in one place – boxes, filling material, and products.

Our ergonomic workplaces with corresponding accessories have been proven to reduce the effort of workers and reduce the risk of incapacity for work due to inappropriate workload.
The packaging workplace with a packing table easily adapts to different packing procedures. The variable system allows you to combine different equipment elements.
Used to transport bales and other objects by gravity or physical force. It's possible to assemble both straight and winding conveyor lines, including slope adjustment. They are used mainly for the transport of cartons, but also other goods with a straight and solid bottom. The inclination of the conveyors can be quickly adjusted using height-adjustable legs.
Simple machines that produce box fillings directly at the packaging workplace, or in other words, directly in the warehouse or on the packing table. The consumable material is either paper, from which FillPak and PadPak paper fixation is made, or a special foil used for the production of air cushions.

These filling materials are placed in a box where they fill the free space and thereby protect the packaged products. These systems have a number of advantages over conventional loose materials, in particular lower storage requirements, more efficient and faster packaging, lower total packaging costs, professional packaging, and more.
FillPak, PadPak or Minipakr fixation machines can be easily integrated into your existing packaging line. With their help, packaging will become noticeably more efficient and less strenuous for shipping workers.
We provide service for all machines and technology supplied by us through our own service technician or directly by the manufacturer's staff. We provide non-stop customer support over the phone and in the event of machine failure, our service technician is usually available right away. In the case of filling machines, it's possible to replace the dysfunctional machine with a new one.
If there is a malfunction in the machine we supplied, we will not leave you in distress. We are flexible and can react immediately and we solve all problems without delay.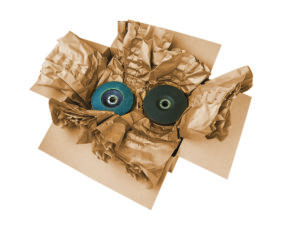 The simplest as well as most protective packaging for grinding wheels. A customer producing grinding wheels needs a simple and fast way to pack them. The handling must be simple, since the client's company mostly employs temporary workers.
Entire case study ->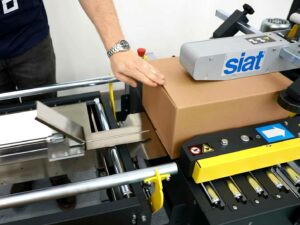 Acceleration of packing using a semi-automatic folding machine and gluing machine. Packaging technologies significantly streamline packing and make work easier.
Entire case study ->
We have helped many customers during our years in business.