We do tailor-made packaging
Your concern is a perfect product while ours is perfect packaging.
Regardless of whether sensitive electronics or heavy machinery parts are concerned, we design a safe packaging solution. We use corrugated cardboard or a combination of it with other materials such as foam profiles, cartonplast, soft foam, etc. We rely on our know-how and twenty years of experience.
Need advice on custom-made packaging?
We often make packaging using a shaped cut-out method. The packaging can be shaped to fit the packaged product exactly so that it does not move around inside.
We have technology for fast and cheap production of this type of cardboard. The production of paper packaging according to the standard constructions of the FEFCO catalogue is also guaranteed. We also offer cut-outs in a luxurious design and with the possibility of adding prints.
We enjoy shaped cut-outs because they can be used to create really interesting design solutions. For example, we have developed packaging for several different types of headlamps, both left and right. We have invented packaging for sensitive rifle scopes, which is used for both transport and sales.
Packing more products into one package. This is a common packaging type for manufacturing companies in the industry. It is used, for example, for engineering parts, electronic components, glass, and products in many other fields. In the case of group packaging, the quality of
product stabilisation
(fixation) inside the packaging is very important for preventing mutual damage to other products. Therefore, grids, partitions, separators, and dividers are often used for better stabilisation.
The stabilising grids separate the products from each other and provide reinforcement with additional reinforcement in damage-prone areas. Separators (interlayers with precisely shaped holes) provide reliable protection and enable machine handling of the products.
Corrugated cardboard packaging is often suitable for other materials. As a result, the entire package can obtain better properties, such as greater protection against shock or the prevention of scratches to the product.

To improve the properties of the packaging, we most often use a fixation material made of PE polyethylene foam, either in the form of foam profiles or blanks from larger pieces of polyethylene. It is also common to use foils for fixating products or wooden slats to strengthen the packaging.
Polyethylene foam fixings provide excellent protection for products, even for very sensitive (e.g. painted) surfaces. Unlike other types of fixation, the products don't get scratched during transport.
Packaging sets contain several components, often made of different materials. We assemble them all during production so the customer can use them immediately. Typically, it is an outer packaging, crate or box, supplemented by other elements, such as a fixation material, liner, anti-corrosion protection, foil, bag, and more. We deliver these assembled packages in a flat condition, if possible, in order to save logistical costs.
We most often supply packaging sets to customers in the automotive industry. They are also suitable for a number of other fields, such as mechanical engineering, the electrical engineering industry, or the glass industry. A box made of very strong corrugated cardboard is often used as the outer packaging, which can also be used as an alternative to returnable metal or plastic packaging.
If we create solutions for packing products from the electrical engineering field, we often encounter a demand for group packaging with anti-static properties.
For electronic components, we offer a solution that protects against unwanted electrical charge, reliably solves the fastening and protection of products inside the packaging and is also sensible economically. Thanks to our technology for the production of stabilisation grids and separators, it's very easy for us to solve packaging as a group or to adapt it specifically so that products can be handled by machine (robot).
In an anti-static design, we offer not only cardboard but also bags, foils, PE profiles and other materials.
Special industrial packaging
We have many years of experience in packaging design for a number of industries. We are used to fulfilling demanding assignments according to the customer's needs. For industrial packaging, we most often use corrugated cardboard, which can be combined with other materials. We always design packaging with regard to economical storage, simple filling, and efficient logistics.
We are long-term suppliers for a number of major industrial companies in the Czech Republic and other European countries across various industries.
We produce packaging mainly from corrugated cardboard, which is easily recycled and produced from renewable sources. If the nature of the product allows it, we produce the entire packaging and internal fixation system from one type of material to make recycling as easy as possible.

Thanks to our many years of experience in the production of corrugated cardboard, we now offer a replacement for plastic packaging. In our offer, you will also find filling materials made of pressed paper or cardboard that is no longer needed, which is used for fixing Kartofix.
Do you need to replace the packaging with its eco-friendly substitute? We will design and produce a solution that will correspond to the original packaging with its parameters, but at the same time will be less harmful to the environment.
Paper spools serve as an effective replacement for spools made of traditional materials, mostly wood and plastic. Our spool with strengthening properties fully balances these materials and offers a number of advantages over them.

Spools made of paper are in most cases less expensive than the above-mentioned materials. The big advantage is their 100% recyclability. We complete the individual elements of the spool with a very strong link, which is protected by industrial property rights. We can adapt the spools to your needs, whether it is the size, type of paper used, or type of front.
A load bearing capacity you wouldn't expect from paper. Paper spools serve as an effective substitution for the reels from traditional materials, mostly from timber or plastics.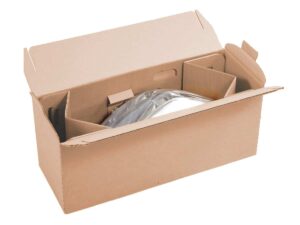 Packaging with a fixation system for headlamps with the prescribed size of the outer packaging due to palletisation. One of our customers placed an order for a reliable packaging solution for shipping headlamps with precise dimensions provided for the outer packaging layer. In practice, therefore, it was all about designing fixation that protects the headlamp lens using a minimum amount of material.
Entire case study ->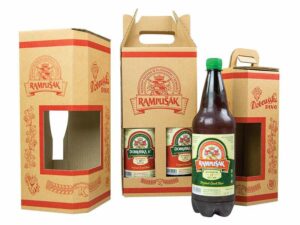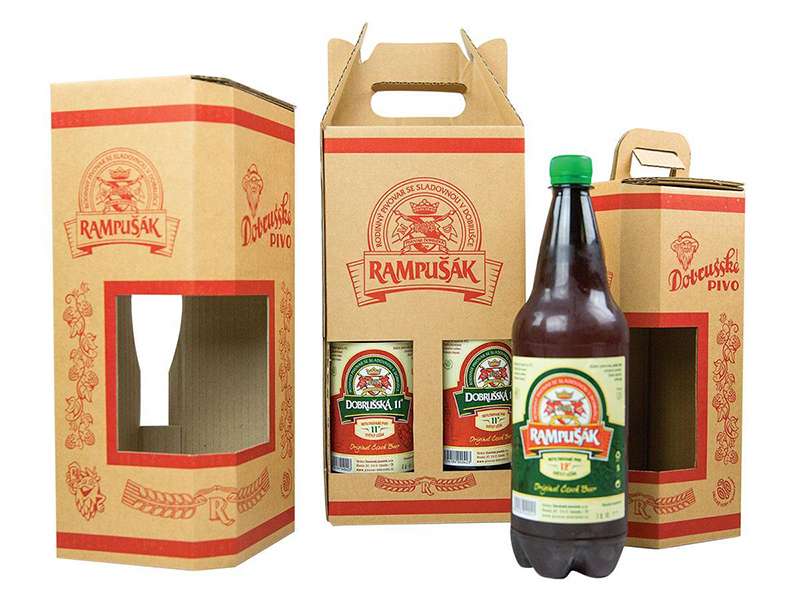 Packaging for beer bottles with sufficient load capacity that also promotes the brand. The traditional beer producer Rampušák, Dobrušský pivovar, needs a solid carrying container, which would also serve to promote the brand. It can be used mainly in the company store and at various promotional events. It will therefore also be used for marketing purposes.
Entire case study ->
We have helped many customers during our years in business.